accueil
recherche
woman
jacket
Veste FIONA
Veste FIONA

Veste Adulte, 95.00€ SIZE YOUR
COLOUR Abysse SÉLECTIONNEZ
VOTRE TAILLE

36

38

40

42

44

46

48
Soldes -30% 66.50€
COLOURS 95.00€
Abysse
Livraison 72h via So Colissimo
Livraison offerte au delà de 50 €
AJOUTER à MES FAVORIS
Description
water repellent lined women's hooded jacket with zip, high buttoned collar.
Couleurs
This new jacket model is proposed in ten colours.
Matière
100% cotton canvas cloth with seagull motif lining, 65% polyester, 35% cotton.
Coupe
Hooded jacket, mid-length fitted cut well covering the lower back.
Détails
Style with cut out yokes front and back. Right-side pockets hidden in the cut. Mousqueton logo on the label on the lower left part at waist level. Hood lined with seagull motif material. Cotton canvas lining identical to jacket material. Asymetric yoke band between front and back.
Atouts
The showerproof canvas makes for a well-appreciated garment for all lovers of nature outings. The jacket covers well with its buttoned hood and snug sleeve ends.
Les clients aiment
A generous choice of colours can match a multitude of polo shirts or striped sweaters.
---
Vous aimerez peut-être aussi…
Veste FIONA PRINT
95.00€
à partir de 66.50€
Veste SAUZON
95.00€
à partir de 66.50€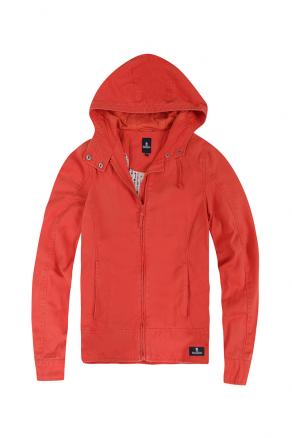 Blouson léger FINELLE
79.00€
à partir de 50.00€
Loose-fitting jacket LARMOR PRINT
85.00€
à partir de 59.50€
+ 1
Striped sweater MARINELLA-B bicolore
42.00€
à partir de 29.40€