accueil
recherche
man
bermuda shorts
Bermuda DONAN
Bermuda DONAN

Bermuda Adulte, 49.00€ SIZE YOUR
COLOUR Miel SÉLECTIONNEZ
VOTRE TAILLE

XS

S

M

L

XL

2XL

3XL

4XL

5XL
COLOURS 49.00€
Miel
Livraison 72h via So Colissimo
Livraison offerte au delà de 50 €
AJOUTER à MES FAVORIS
QU'EST CE QUE LA TOILE CANVAS SPI ?!
Toile coton légère imprimée d'un seul coté aspect délavé.
Description
Lightweight sport-cut men's bermuda shorts with a maximum amount of pockets, two low classic front extendible gusset side pockets with flaps, and two back pockets with flaps and button closing.
Couleurs
Mousqueton proposes this bermuda short in 6 slightly faded colours.
Matière
100% SPI cotton, Mousqueton's own.
Coupe
Laid back sport cut.
Détails
Zip fly with Mousqueton stamped button closing. A band printed with the Mousqueton logo around the waist interior.
Atouts
Two low deep pockets as practical as they are perfect for a laid back look. The sturdiness of this model is thanks to the Mousqueton SPI canvas material and its style won't go out of fashion.
Les clients aiment
Start the summer off on the right foot with the emblematic Donan bermuda shorts. "The six pockets", a highlight in any man's summer closet to be put with striped sweaters, loose-fitting jackets and other marine-style garments without moderation, our customers love them!
Mesures
Elasticated waists from 3XL to 5XL.
+
With more than 4cm width for the beltloops, even large leather belts can be worn.
---
Vous aimerez peut-être aussi…
Bermuda DOUAR
45.00€
Vareuse DAOUCACHOU PRINT-S
65.00€
Short ARMIN
42.00€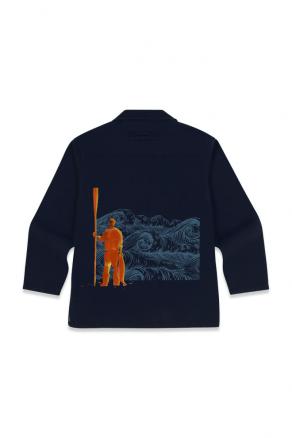 Vareuse CACHOU-S Flahault
59.00€
T-shirt BATELY-S
29.00€
Marinière MARIUS
44.00€
à partir de 30.80€
T-shirt BATELY-B
29.00€